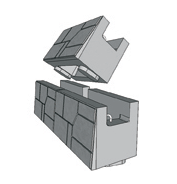 MagnumStone: Introduction

MagnumStone™ is a large block, hollow core, wet-cast segmental retaining wall system that uses nearly half the amount of concrete per face foot when compared to traditional solid systems. The environmental and economical advantages of the pre-cast hollow block MagnumStone™ product are unprecedented in the retaining wall industry. Because of its size and design flexibility, MagnumStone™ is ideal for almost any retaining wall project from residential to large commercial installations.

Unit to unit connection uses our patented, mortarless, SecureLug™ interlock system (no expensive, time consuming pins or clips.) and are light enough that they can be moved two at a time with lighter machinery such as a standard Bobcat.

A wet cast segmental retaining wall product provides freeze/thaw durability advantages over competing products, a critical factor for the Departments Of Transport work that MagnumStone™ is very well suited for. The wet cast process also allows for unique through-wall applications, face options and logo details for any type of project.